We recognize that all our patients are unique and deserve to receive dental care that reflects their individual needs. Our experienced and talented dental team is committed to working with you and your family to create a comfortable, stress-free, and rewarding dental experience every time you visit our practice.
We are pleased to welcome you and your family, and we look forward to working with you.
---
Sherry
Office Manager
I handle the day-to-day business issues so Dr. Steinbeck can concentrate on his patients. Mostly, this involves managing personnel, payroll, and expenses. I've worked in dentistry as a dental hygienist since 1976 and have been proud to be a part of Dr. Steinbeck's team since 1990. It's a joy to work with a group of such capable and hard-working people.
Libby
Scheduling Coordinator / Client Relations
I'm your "meet and greet person"! It's very important to me that everyone feels welcome as soon as they arrive. I'm here to take care of registering patients and update records as needed, schedule and confirm appointments, and give post-op surgery instructions. My history in dentistry is as a dental assistant, which I began in 1983. Since 1990, I've worked with Dr. Steinbeck and our team to help patients feel as comfortable and stress-free as possible while providing optimal care.
When I'm not working, I enjoy spending time with my husband Tim. We enjoy traveling or just chilling with a glass of wine. I have two awesome boys, Zachary and Logan, and a beautiful daughter-in-law, Andrea. I am an avid dog lover and have two very spoiled toy poodles, Clooney and Tinker. For my "me" time, I enjoy massaging and riding horses.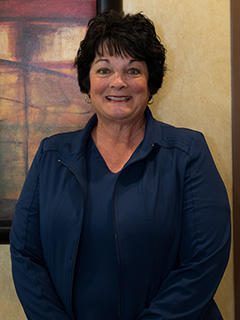 Sue
Billing Administration
My role here includes maintaining accounts receivable and collections, while making sure Dr. Steinbeck's values are being fulfilled. I've had the pleasure of working with patients and helping them with their dental needs since starting with this office in 2004. Our office is a wonderful place, with a calm atmosphere and a truly great team.
I am married to my husband Dan. We have three children and four grandchildren. I love spending time with my friends and family! We enjoy traveling, seeing movies, and taking walks.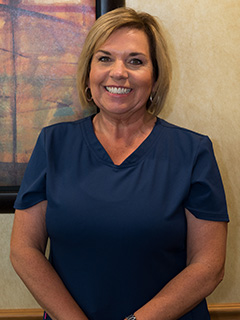 Natalie
Administrative Assistant
I assist patients with their checkout procedures, as well as provide pre-treatment estimates and other administration duties. It's been a lot of fun working here since I started in 2001. I enjoy meeting new people and making their visit as painless as possible! I love the camaraderie I share with Dr. Steinbeck, our team, and our patients!
My husband and I have five adult children and ten grandchildren. I enjoy reading, crafting, swimming, walking our German Shepherd, and spending time with friends and family.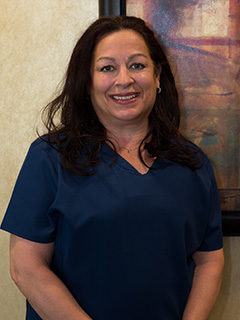 Andrea
Surgical Assistant
I was trained as a surgical assistant at Northern Kentucky Occupational Center in 1988 and joined this office in 1991. We have been a team for a long time — they're my family outside of my other family! I help to prepare the patient for surgery, hook up the monitors, and start IV. I assist Dr. Steinbeck during surgery and prepare instruments for sterilization after surgery. My favorite part of my job is getting to meet new people every day, especially those who require a little extra TLC.
I have the most amazing family. I have three children whom I adore and two fur babies. I love to cook and spend time with my great-nephews, niece, and nephews. I am the youngest of four sisters. I lost my mother recently; not a day goes by I don't think of her. She was truly my best friend.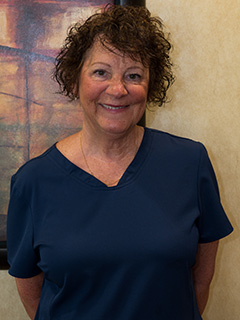 Cathy
Surgical Assistant
I am here to help Dr. Steinbeck with all aspects of our patients' surgical care. I have more than 40 years of experience in the dental field and am anesthesia certified. Our office is a great work environment with great people. I love working with my team!
I am married with two children and five grandchildren. When I have free time, I enjoy doing crafts and working in my yard.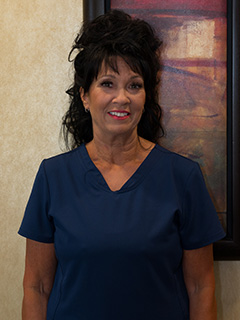 Tammy
Surgical Assistant
I work closely with patients to prepare them for treatment: ensuring they are comfortable, monitoring their vitals, and checking on them during recovery time until they're ready to be released to go home. I am a registered dental assistant with more than 35 years of experience, the past five of which have been in this office. I get great satisfaction from the gratitude and positive feedback from our patients for our efficient and excellent care.
I have enjoyed being a mother of three boys more than anything in the world! I also enjoy sports, especially football season, animals, and reading anything I can learn from.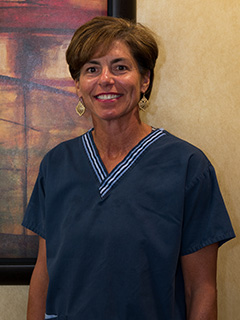 Kelly
Surgical Assistant
I spend a lot of time with our patients because I am with them before, during, and after their procedure. I also get to meet the patient's escort, which is usually a family member. This interaction with the patient and their families is my favorite part of my job. Working with wonderful coworkers is great perk! After many years together, we flow together pretty seamlessly. Dr. Steinbeck creates the ultimate working environment by having a state-of-the-art facility with the latest and greatest technology. Being curious by nature, I ask many medical questions, which Dr. Steinbeck answers in a patient and informative manner. He is a great teacher!
My husband and I have been married for more than 25 years, and were blessed with a son and a daughter. We love dogs, sports (especially Michigan football and Xavier basketball), and family gatherings.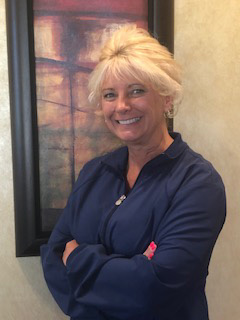 Christi
Surgical Assistant
I assist with the surgical aspects of our patients' care. I enjoy assisting with a variety of dental procedures and seeing all the positive outcomes in our patients' health and function. Working with a great office staff is another bonus! Everyone is kind, friendly, and helpful. They are friends, not just coworkers and a boss.
I've been married to my husband Larry for more than a quarter century. We have two adult sons, Kyle and Corey. I enjoy our fur babies, Charley and Riley the dogs, and Jasper the cat. The most important thing to me is family time.